I stumbled across this beauty, which seems to have been manufactured by the GMC company. Hey, I'm all for car companies investing in Bikes – it's the smart thing to do. Unfortunately, it looks like GMC put as much thought into their "Denali" bike as they did into their cars.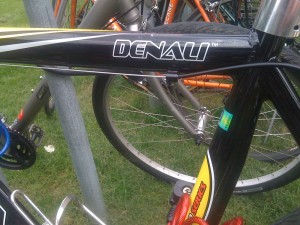 If you're wondering about the name, the Denali is a mountain in Alaska, which makes sense because this is a road bike. Oh, and Denali is also a line of cars from GMC. So why not compliment a 40k car with a $170 road bike? Yeah. Good marketing.
I didn't lift it, but I'll make a bet that this bike weighs a good 30 lbs. Just check out the thickness of the dropouts! I'm not sure if it is visible from this photo, but they are just so THICK. Like disgustingly thick.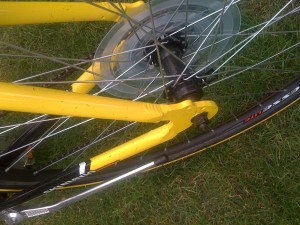 I don't know why they did this. Maybe General Motors just doesn't know that a bike is supposed to be light. Maybe they just didn't have the know-how or budget to manufacture some decent dropouts. Maybe they were  lazy?
But the raison-du-blogeuire is truly the owner's choice of a lock. Please, children look away. Adult males: try and make sure the screen is outside of punching range. I think adult females can probably handle this, but I'm sure there is some precaution they should take.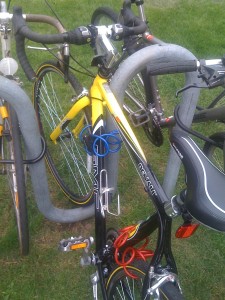 First, let's just take a moment to examine this giant turd in its entirety. Then, turn your attention to the tiny cables. That's right: it's locked with not one, but two easily clipped locks. The kind that are meant for helmets, or to lock small pieces of paper to one another. ZOOM:
And there you have it. The type of bike porn where the actors are too dumb for you to enjoy it. This might be the most retarded bicycle ever created. I am, of course, included the Fixed Speed in this superlative. I wonder how long this bike will last, or if the owner uses it for anything besides putzing around town. Does he race triathlons on this? Is this one of those guys who pulls up infront of you at a light, only to bike at half your speed?
HOW DO YOU EXIST!?

7 Comments