So I saw this on Boston.com (apparently) two hours after they published it…. I really need to stop scanning news sites for bike-related stories. In any case: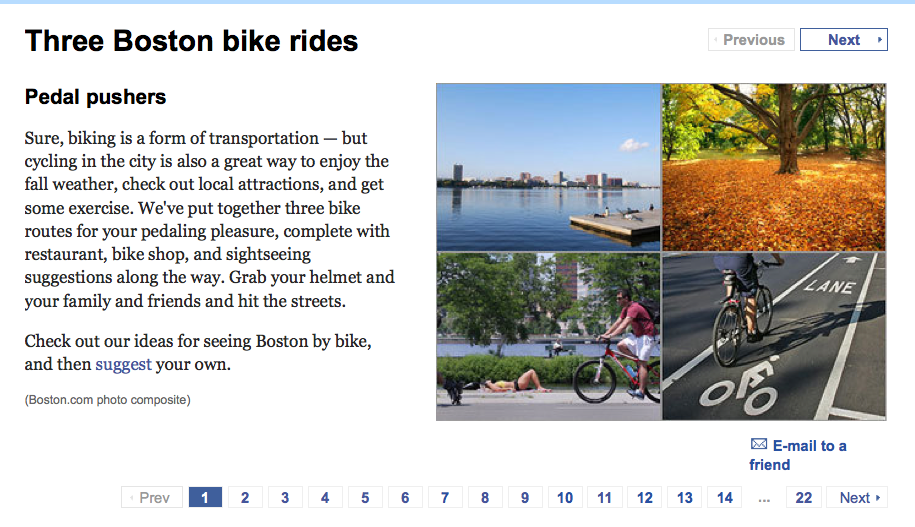 On Boston.com today there was a little guide to three bike paths around Boston, in case the readers were from New Jersey, and hadn't had time to Google "Bike Paths in Boston".
On the one hand I'm glad to see the globe posting something other than Monique Doyle Spencer's incendiary op-eds, on the other hand, it would be nice if the News was new.
The Bike paths are:
1) The Southwest Corridor
http://www.boston.com/thingstodo/special/bikeforests/
2) The Storrow Drive "Bike path" (Read: Park)
http://www.boston.com/thingstodo/special/bikeriver/
3) The Sidewalk around Southie's Beach
http://www.boston.com/thingstodo/special/bikeharborwalk/
Maybe next week they can publish about all the things Drivers can do on Mass Ave, or a map of where the Red Line goes, I think people would really like a photo guide of that.
Luckily, Boston.com has given us the option of suggesting any other good Bike rides.
Here is the link.
Personally, I'd love to see something more original up there, so I'd encourage all fourteen people who read this blog to make a suggestion. Any suggestion, really. Double points for sarcasm.

3 Comments